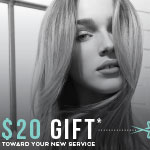 $20 NEW GUEST OFFER
New to PYURE Salon? Download our $20 gift and request an appointment today!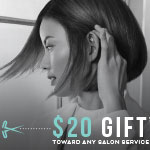 REINVENT YOURSELF
Considering a new look? Download our $20 gift to try a new experience at PYURE Salon.
---
SHOPPING CAN BE PYURELY REWARDING
Enroll in our PYURE Rewards Program and earn points on the products and services you buy at PYURE—ask your salon coordinator to enroll you!
A one-time fee of $10 gets you:
Members-only gifts and monthly specials
$1 spent = 1 Reward Point
1000 Points = $50 PYURE Dollars
PYURE Dollars can be spent on any salon service or retail purchases