Years in the industry: Five magical years and I've been at Pyure Aveda since we opened in April.
Specialty: Balayage, fashion colors, reds, makeup and extensions!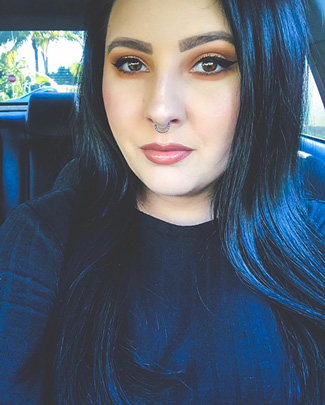 Source: Chelsea Pettis
Most meaningful experience as a stylist: When I first started in the industry, I had a guest in my chair who had had a very rough few months. She had gotten out of a very long and serious relationship, and shortly after she lost her grandmother who had raised her. She told me that she needed something new but wanted to do something that would make her grandmother smile. She gave me creative freedom and said that her grandmother's favorite color was royal blue. With her dream and my vision, we created this beautiful royal blue balayage that blended perfectly with her dark hair. After her finished style she was moved to tears and said it was the most beautiful thing she'd ever had done. She just knew wherever her grandmother was she was smiling down at her. That exact moment is when I realized why I went into this industry; to change people's lives and make them see the beauty within themselves.
Fun fact about you: I served in the US Army for four years, and I'm ambidextrous!
---
Comments